bio & bio trade organic products are recognizable by the proven quality and range of comprehensive natural products and a large selection of certified organic brands of domestic and international manufacturers. But are our main asset bio & bio employees who approach each customer individually, passing on their knowledge about healthy and natural diet, which is the result of continuing education and personal experience.
Offer bio & bio stores includes more than 4,000 natural and certified organic productsfrom the categories of food and beverages, food supplements, organic cosmetics and organic products for the maintenance of the household who are subject to strict quality controls and have all the associated certificates. Visit us in Zagreb where the nine bio & bio stores, three in Split, and Varazdin, Osijek, Rijeka, Pula and Dubrovnik or enjoy virtual shopping which is just one click ! 🙂
Core values ​​are our promise to customers and summarize our business mission and vision:
Organic & complete
for you choose only top quality organic products from wholesome ingredients, offering the best time we Nature can provide.
Caring & experience
Knowledge and tips that pleased you share the true and tested as a natural diet our personal passion and the products themselves willingly use.
Responsibility & commitment to
responsible business that respects each link in the chain justify your trust, positively influence the health and satisfaction of each of us and the welfare of the planet.
Especially popular are the natural and organic food supplements and foods for their nutritional resources belong to the group Superfoods. Each product in this category are carefully selected based on the latest food trends and proven modern nutritional knowledge and after consultation with nutritional experts bio & bio stores.
All the more common choice right Croatian organic products which is bio & bio shelves of more than 1,000 bio & bio supports the development of local organic farming and for more than 10 years fosters cooperation with Croatian eco-farmers. Today, with its own eco farm Grain, actively cooperates with more than 30 Croatian agricultural eco economies around the Croatian and the number of subcontractors is increasing day by day.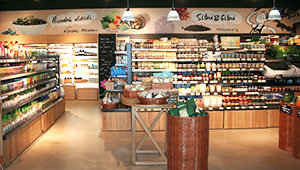 bio & bio Split 3 – ST3
OPENING HOURS
Mon – Sun: 09 – 22h
Phone: +385 21 34 27 86
If you are in an attractive Split City Center One, došetajte and to our bio & bio shops where you expected smiling Split team. Are available for advice about healthy living recommendations when selecting a product or provide ideas for healthy and delicious recipes. Choose among more than 3000 of natural, holistic and organic products and feel the pleasure of shopping in a practical and functional space commerce.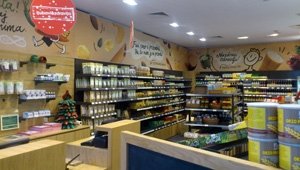 bio & bio Split 2 – ST2
OPENING HOURS
Mon – Fri: 08 – 21h
Sun: 09 – 21h
Phone: +385 21 34 30 76
Meet the Split area of ​​health in the city center. Stroll bio & bio shop that offers a wide range of comprehensive, ecological food, natural supplements and organic cosmetics. In the urban environment and the busy urban life, commerce inspires functionality of space and looking forward to an interesting and practical spatial solutions.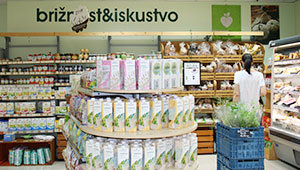 bio & bio Split 1 – ST1
OPENING HOURS
Mon – Fri: 08 – 21h
Sat: 08 – 20h
Phone: +385 21 45 96 40
bio & bio stores in the heart of Dalmatia is a favorite destination for local lovers of healthy life as well as their guests who love eco "dinning" holistic cosmetics, fresh eco fruits and vegetables, or a quick and healthy snack. Widely known beauty splićanka not in this case you will not be disappointed as well as their kindness, care and expertise. Check out why they call bio & bio dream team!